(Dropboxes live! Photo: City Commissioners)
Pennsylvania has a good chance of being the tipping point state in the November election, according to an analysis from FiveThirtyEight, which gives President Donald Trump an 84 percent chance of winning reelection if he carries the state, and Democratic nominee Joe Biden a 96 percent chance of winning the presidency if he takes Pennsylvania.
That's raised the stakes dramatically for many of the decisions yet to be made about voting rights in the election, each of which could cause small shifts in either direction. This week's state Supreme Court decisions settled things on very favorable terms for the voting rights and election modernization advocates, by significantly protecting Act 77's expanded voting access measures, as well as voter security in the general election.

The Supreme Court took off the table a few big unknowns, like whether dropboxes for absentee ballots would be allowed (yes), whether mailed-in ballots arriving up to 3 days after Election Day would be counted (yes), and whether out-of-county poll watchers would be allowed into polling places (no.)




Ballots postmarked by 8:00 PM on Election Day on November 3rd will be counted if they are received by 5:00 PM on November 6th and are otherwise valid. The Court also decided that "naked" ballots not returned in their secrecy envelope will not be counted, which was the only real downside for voting access advocates in the decision. The Department of State also decided that county boards of elections may not reject ballots due to alleged signature inconsistencies.

Earlier in the week, the Supreme Court also ruled in favor of the Democratic Party's ballot access challenge to Green Party Presidential nominee Howie Hawkins, who will now not appear on the ballot, ensuring Democratic nominee Joe Biden will have no one competing for votes to his left. The Green Party case was the last issue to resolve before ballots could be printed, and the City Commissioners told Billy Penn's Max Marin that Philly voters could start seeing their ballots arrive in the mail within 8-10 days.

There's still time to apply for a mail-in ballot before October 27th and now, thanks to the Supreme Court, those who don't feel comfortable returning them through the mail will have the option of depositing them in-person at one of 15 dropboxes or 15 satellite election offices around the city, according to the Inquirer's earlier reporting on the anticipated number of locations. Voters will be able to begin depositing their ballots as soon as they receive them, in accordance with the 50-day period to turn in an absentee ballot under Act 77, which we are officially in now as of earlier this week.

It's unclear as of now whether the Supreme Court's decision on dropboxes will cause state legislative Republicans to retreat from trying to ban them, but for now, the big remaining questions include whether pre-canvassing of ballots will be allowed prior to election day, how late in the game counties can send out ballots, and how early before Election Day counties are allowed to fill poll worker vacancies. Governor Tom Wolf released his four priorities for an election reform bill this week, and these three were the remaining issues, with the fourth—late acceptance of ballots postmarked on Election Day—covered by the Supreme Court decision. The legislature will continue to debate these options, and perhaps dropboxes as well, over the coming week.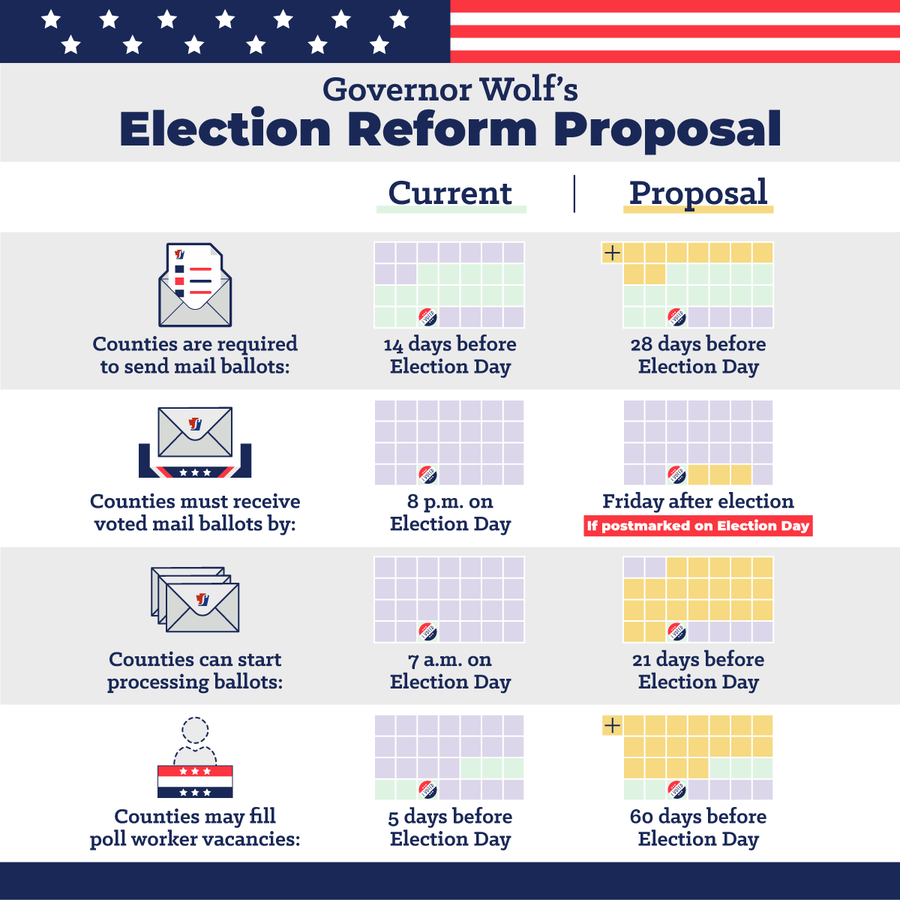 Stay in the loop on Philly and Pennsylvania politics and elections by signing up for our weekly newsletter.
Do you like this post?