(This completely fine building is patient-zero for the end of the Mixed-Income Housing program in Graduate Hospital | Image: Gnome Architects)
Inquirer architecture critic Inga Saffron's recent columns on two different homes that were demolished in Graduate Hospital, to be replaced with new homes using the Mixed-Income Housing density bonus, appears to have prompted some legislative action this week, although perhaps not in the way she intended.
2nd District Councilmember Kenyatta Johnson has introduced the completely insane concept of zipcode-based zoning into the code for the first time, in order to make the density bonus stop working in 19146 (Graduate Hospital and part of Point Breeze.) There's also talk of a demolition moratorium in that same zipcode, presumably also stemming from Saffron's columns.

Zipcode-based zoning is obviously nutty, but what's even worse is that the whole point of Johnson's legislation seems to be to make the Mixed-Income program stop working there, by eliminating the option to pay an in-lieu fee to the Housing Trust Fund for the added density.

The way it works now, builders have the option to either build on-site below-market units, or else pay a fee-in-lieu into the Housing Trust Fund to access additional allowable density. City Council made the in-lieu fee the much more appealing option when they wrote the law, evidently prioritizing the funding goal more than the integration goal of inclusionary housing, but they also added other rules that make building the on-site affordable units less appealing, even apart from any cost differential. The requirements are much more onerous than anything Capital-A Affordable Housing projects have to abide by under programs like the Low-Income Housing Tax Credit. Council could get more on-site affordable housing if they wanted to by increasing the density bonus for on-site more, but that's not what's happening. Instead, Councilmember Johnson is just banning the in-lieu fee option, without doing anything else to fix the other problems, and what's likely to happen is that the program is barely going to be used in 19146.
Some people, like the Preservation Alliance's executive director Paul Steinke, know full-well this is the case, but advocated for Johnson's zipcode carve-out nonetheless on the specific grounds that it would render any Mixed Income Housing bonus projects impossible to build.
The in-lieu fee is good though because it raises free revenue out of thin air to send to the city's Housing Trust Fund, which funds affordable housing but also things like basic systems repairs and home renovations for low-income people, and early evidence shows the revenue collections beating expectations by a lot. And there are dozens of other great projects that have happened because of the Mixed-Income Housing program, including several preservation and reuse success stories. Denying money to programs that help fund housing and repairs for low-income people is bad, but in this case it's not even for a good reason. 
According to Saffron's latest column that set off Johnson's legislation, the supposed problem was that a not-that-old two-story building, which she says is ugly and poorly-built, is being demolished and replaced by a building she says looks a lot better. The new building provides 4 times as much housing on the same lot, and would make a $35,000 payment into the Housing Trust Fund. The current annual tax payment from the existing building is less than $4,000 a year, so this is like getting 8 years' worth of that building's property taxes upfront.


(Photo: Inga Saffron)
(Image: Gnome Architects)
But because the new building is getting a tax abatement, involves demolishing a building, and also involves he Mixed-Income Housing program, Saffron thinks there should be a moral panic about this, even though she doesn't actually demonstrate that the Mixed-Income Housing bonus was the cause of either demolition decision she highlighted. Well, the moral panic arrived, and the upshot is going to be that there are fewer affordable rentals in an expensive part of town, and less money for low-income people's housing needs in the neighborhood and citywide.
One thing worth highlighting is that the zipcode 19146 receives an above-average amount of the Housing Trust Fund's spending on basic system repairs, home preservation, and other housing services, so the effect of this move by Johnson—if it passes the full Council—will be to reduce available funding for his constituents with housing needs right in this same area. (h/t Ben She)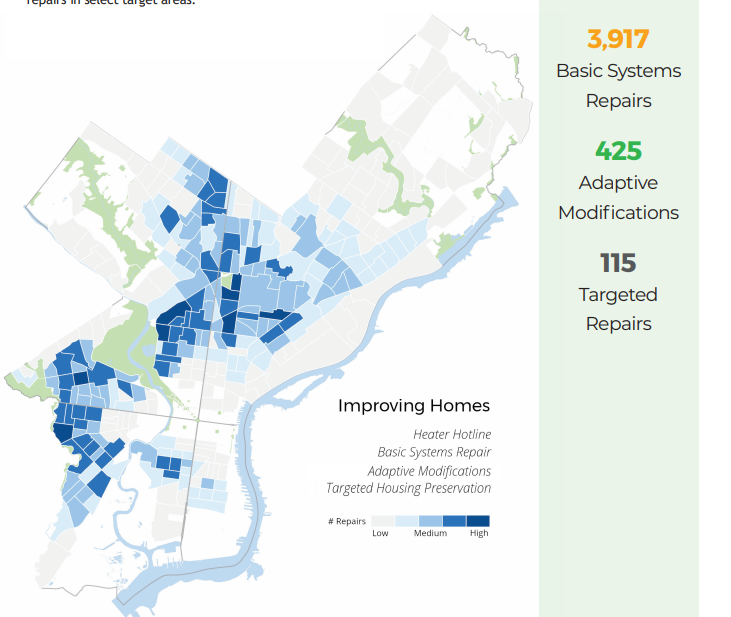 This wasn't the only arbitrary overlay to be introduced at Tuesday's Rules Committee meeting. Several members also moved to carve their districts out of some new code provisions introduced as part of an omnibus bill from the Planning Commission and Councilmember Maria Quinones-Sanchez. Five different members—Cherelle Parker, Brian O'Neill, Bobby Henon, Curtis Jones, and Cindy Bass—decided to nullify many of the (mostly very good) changes in their own districts, by picking and choosing which citywide code provisions to selectively ban. 
The increasing proliferation of these District-only overlays is an incredibly damaging political development for land use planning in Philadelphia, akin to an invasive species in the city code. The big-picture problem is that it means Philadelphia effectively no longer has a citywide zoning code if everybody can just nullify the provisions they don't like in their own districts. The Pennsylvania state legislature needs to step in quickly to outlaw Council District-only (and zipcode-only) overlays before this trend continues any further.

Stay up to date on Philadelphia politics and policy issues by signing up for our weekly email newsletter
Do you like this post?