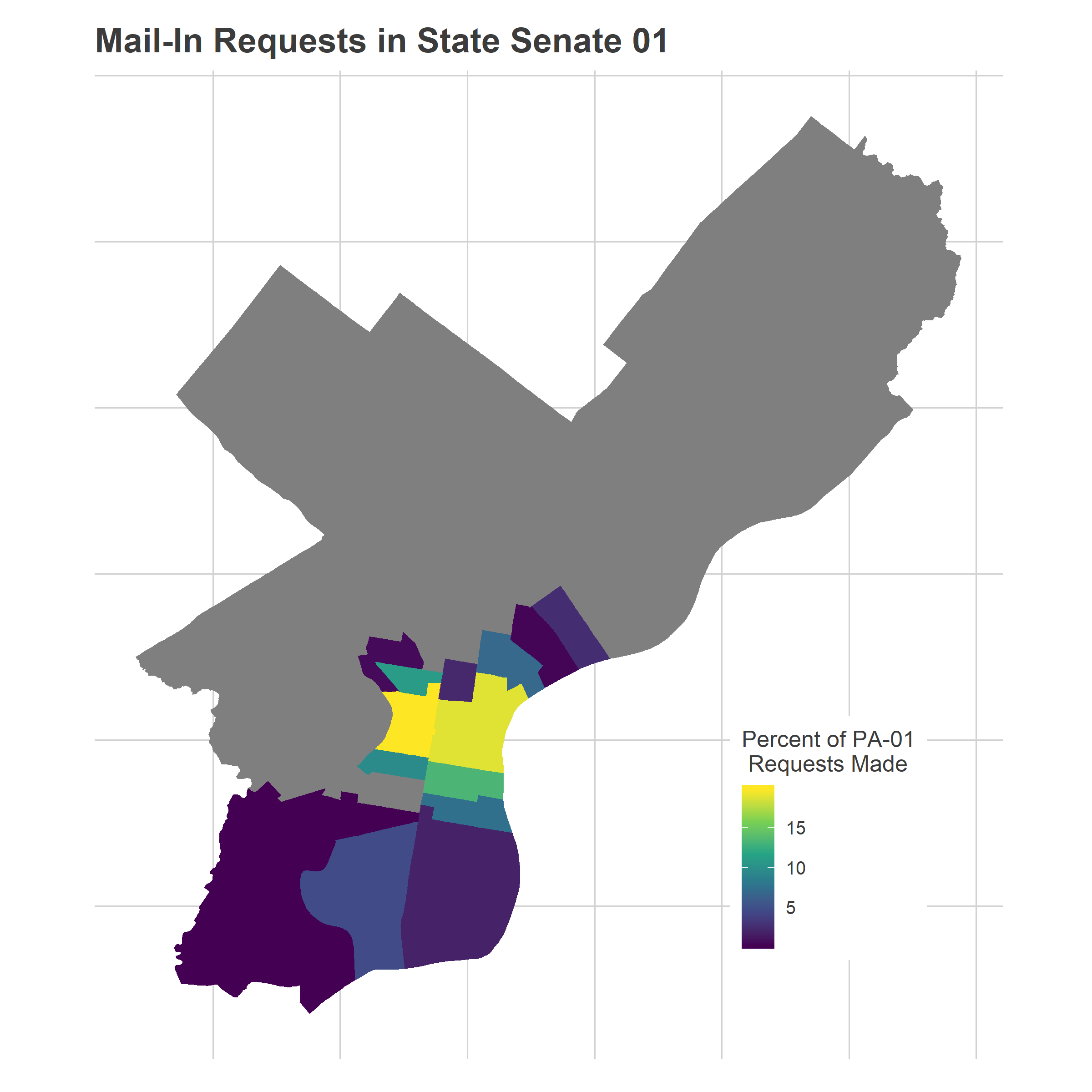 (Image: Sixty-Six Wards)
Philadelphia's 2020 primary will surely (hopefully) go down as the weirdest in our lifetime, with so many large and novel challenges for voters, candidates, and election administrators.

Because most people voted by mail prior to Election Day on June 2nd, and because Governor Wolf allowed any ballots to count that were postmarked by June 2nd and received by June 9th, we won't know until sometime next week how many people actually voted in the election. We know that 226,000 absentee ballots were requested by Philadelphia voters, over 90% of which were Democratic ballots, but we don't yet know how many will be returned. So far, 157,152 ballots, or about 70%, have been returned, with more coming in every day.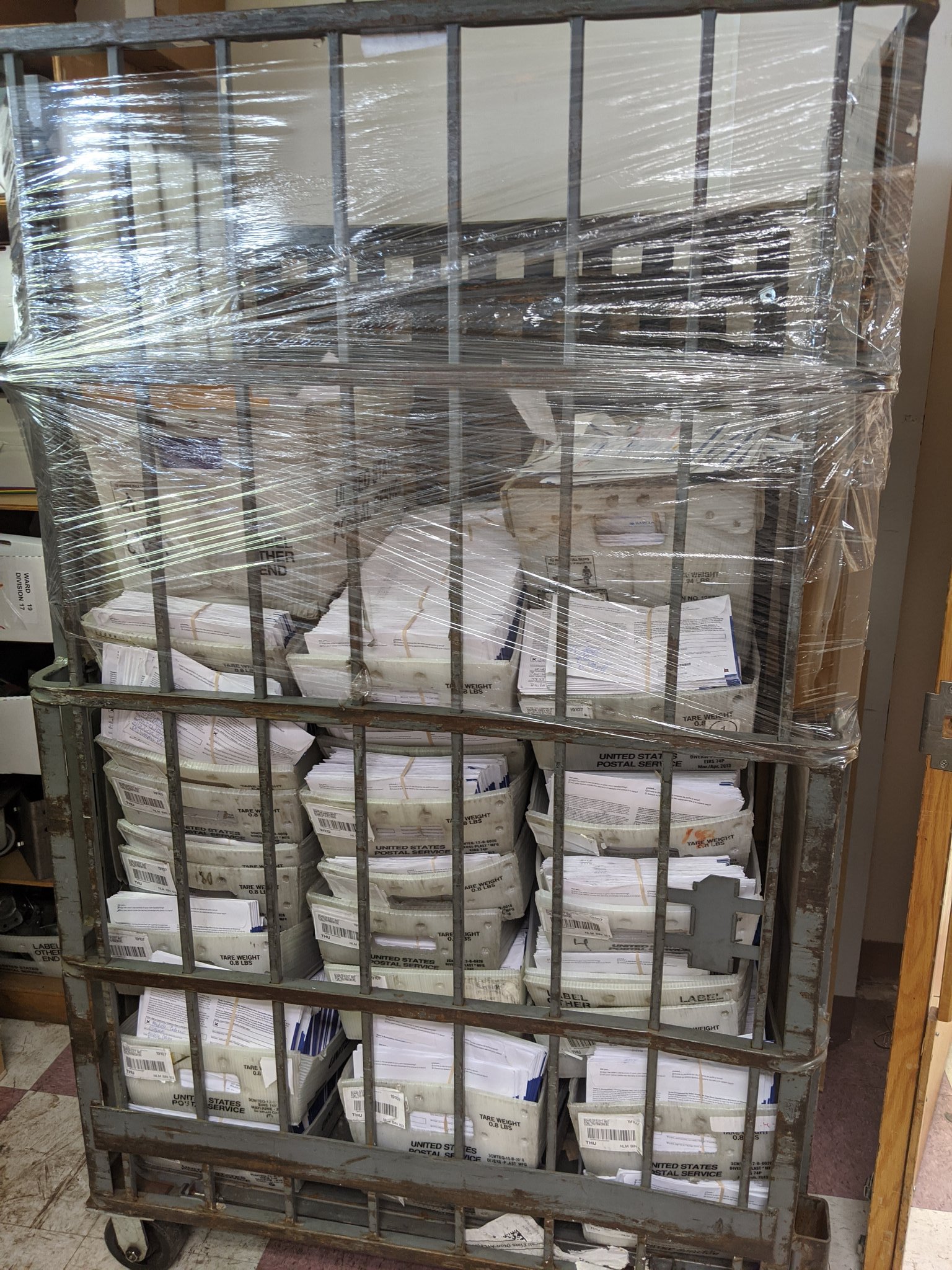 (Mail ballots that wouldn't have been counted without the extension | Image: City Commissioners)
Machine results have mostly been tallied by now, with 99% reporting, but these are likely to represent only about 20% of the total ballots, so it's hard to predict based on the in-person votes what the final totals will look like. The Associated Press raised some eyebrows calling the 1st District Senate race for challenger Nikil Saval after the in-person results left him with a 68-32 lead over incumbent Senator Larry Farnese. Saval may well win, but with most of the votes yet to be counted at the point they called it, this amounted to a guess by the AP that the mail ballots would look roughly like the in-person results—something nobody knows because we've never run a mail election or an election under these bizarre circumstances before.

To win, Farnese needs at least 54.4% of the total mail-in votes to break his way. In the first 5,938 mail-in votes that were counted, the incumbent won about 50.4% of the vote. If that pattern were to hold, it wouldn't be enough to overcome Saval's lead in the in-person vote. On the other hand, there were about 67,000 total ballots requested in the 1st Senate District race, so we're likely about a third of the way through the count, depending on assumptions about how many will be returned. If 75% of the mail-in ballots are returned, Farnese would need to win 56.1% of the remaining mail-in ballots to win. Additionally, the ballots are being counted in a non-random order, and the first batch were all cast more than two weeks ago, meaning later events in the race and other campaign effects could still bear on the ballots yet to be counted. Because the 175th and 182nd House Districts are mostly nested inside the 1st Senate District, we're also seeing updates to those races on the Commissioners' much-improved election results page.

In the 175th and 182nd Districts, the mail-in ballot results from the first tranche also boosted incumbents. In the 182nd District, Brian Sims is now leading Marisa Shabaan by almost 500 votes, after narrowly losing the in-person vote by about 180—something that had shocked political observers because of Sims's massive social media platform and a large fundraising gap between the candidates. In the 175th District, incumbent Rep. Mary Isaacson pulled ahead further after the first mail-in ballots were counted, but the race remains close. The in-person results ended with Isaacson winning 30% of the vote, Jeff Dempsey winning 26%, Vanessa McGrath winning 25%, and Andre Del Valle taking 18%. With the first mail-in ballots in the mix, Isaacson leads by 35.7, with McGrath pulling into second place at 26.8%, Dempsey in third with 22.8%, and Del Valle still in last place at 14.6%.

The big trend across all the in-person results was a striking anti-incumbent slant that seemed to pervade every race to some degree, with some surprising results in a few cases. In addition to Sims losing the in-person vote and Isaacson winning less than a third of the vote in a 4-way race, the in-person results in a couple other House races were also pronounced enough for the AP to feel comfortable calling them on election night. Those included the 192nd district in West Philadelphia, where Amen Brown bested incumbent Roni Green, who had replaced Movita Johnson-Harrell in a special election, and the 185th District in South Philly and Southwest, where Regina Young, community schools coordinator for the Mayor's Office of Education, beat incumbent Maria Donatucci in a race that wasn't previously on most election watchers' radars. Donatucci is the sister-in-law of former Register of Willis and current 26th Ward leader Ron Donatucci, who was also ousted in a surprise defeat in 2019 by Tracey Gordon.
And it hasn't been called yet, but the 188th District also saw a big anti-incumbent wave, with Jim Roebuck taking just 30% of the in-person vote, and Reclaim Philadelphia organizer Rick Krajewski and 51st Ward Leader Gregory Benjamin taking 34% and 24%% of the in-person vote, respectively. Fourth place finisher Karen Dunn, a former Roebuck staffer, took 12.6%. Krajewski is looking like a good bet to win the seat, depending on what happens with the remaining ballots.

The other competitive race that remains close is the 192nd District in the lower Northwest, where the in-person vote has all four candidates within 4 points of one another. Tied for first place are Supreme Dow and Bernard Williams at 26%, followed by Fareed Abdullah, who ran as an At-Large Council candidate in 2019, at 25.5%, and Darisha Parker at 22.32%. That's close enough that there's truly no indication of who could take the lead in the mail-in ballots.
The City's counts have been coming in very slowly, with just 14,046 mail-in ballots counted through Thursday evening, with over 143,000 left to go, and no certainty about the final total. The City Commissioners have taken a pause from counting, and are now sorting all the ballots by ward and division. Any ballots not in by next Tuesday, June 9th at 5pm, won't be counted, so they'll at least soon have the full universe of ballots. According to a Commissioners' office source, "thousands and thousands" of mail-in ballots came in after Election Day on June 2nd, so Governor Wolf's extension order for six counties protected many people's democratic rights. It's possible it could take as long as a month for all the results to be finalized, which is troubling news for the November general election, when many more people will be voting.

A month-long delay in counting Philadelphia's mail-in ballots would sow political chaos in the Presidential election, with all eyes on Philadelphia, so it's important for there to be an all-hands-on-deck effort by state and local officials after this to figure out how we can avoid a repeat in November.



Do you like this post?